---

Southern Optical Fiber: 
The Southern Optical Fiber Project's main goal is to deploy an open-access, and nondiscriminatory high capacity telecommunications infrastructure for the south of Chile. When completed, it will become the world's southernmost node of the global infrastructure of optical cable. After a first attempt in 2016, the Government of Chile through SUBTEL is ready to launch a new Request for Tender. There are important changes ahead. The following are some of the common questions about the new bidding process.
More Information
---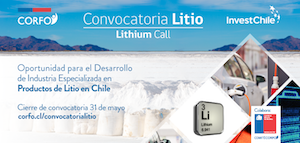 Opportunity for the development of Lithium products specialized industry in Chile
The Chilean Economic Development Agency CORFO, and the Foreign Investment Promotion Agency, InvestChile, invite companies to express their interest in investing and developing industry in Chile, for value-added products that use lithium as a main material.
It is important to note that the supply of lithium for the projects that are developed within the framework of this call, is insured in the long term and with preferential prices, in the contract between Corfo and Rockwood Lithium Ltda., for the lithium exploitation at the "Salar de Atacama".
Contact: Jorge Yañez, Investment Promotion Executive / jyanez@investchile.gob.cl / (56-2) 2663 9200
---

Bid for routes in the Public Transportation System in Santiago, Chile
The Ministry of Transport and Telecommunications (MTT) of the Government of Chile and the Foreign Investment Promotion Agency, InvestChile, invite companies operating public transport, and the financial sector around the world to participate in the tender process for the Concession of Road Use of the Public Transport System of Passengers for the City of Santiago – Transantiago (hereinafter Transport System).
The roadshow will be held at the Intercontinental Hotel, located at 2885 Vitacura Avenue, Las Condes, Santiago, on Wednesday, July 12th, from 8:30 AM to 18:00 PM.
More information:
Contact: Jorge Yañez, Investment Promotion Executive / jyanez@investchile.gob.cl / (56-2) 2663 9200
---